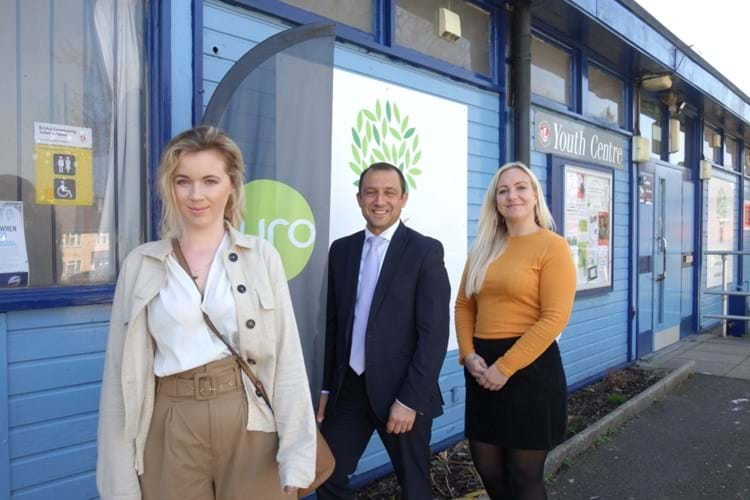 26th April 2019
Local residents choose names for Curo's developments in Lawrence Weston, Bristol
'Century Park' and 'The Willows' are today revealed as the new names for Curo's developments in Lawrence Weston, Bristol.
The names were suggested by local residents Becky Cockle and Rhiannon Beail, following a campaign by Curo to find new identities for the two sites - previously referred to as Henacre Road and Corbet Close.
The winning residents were thanked for their contributions and given vouchers by Curo Chief Executive, Victor da Cunha. Victor says: "We wanted to make sure we chose names that reflected the local area, its community, history and landmarks - what better way to do so than ask local people who live here for their input.
"The competition was a great opportunity to engage with the local community and we've received many inspiring suggestions. Thanks to everyone who got involved and congratulations to Becky and Rhiannon for putting forward the winning names."
Over the next few years, Curo plans to develop 185 new homes in Lawrence Weston with more than half – 95 homes – as affordable housing for social/affordable rent and shared ownership.
Century Park at Henacre Road will deliver 128 new homes, including 30% affordable housing. The Willows at Corbet Close is a 100% affordable housing scheme and will provide another 57 much-needed new homes.
Rhiannon Beail, who suggested 'The Willows', is a 21-year-old college student. She said: "The development is located very close to the local nature reserve and wetlands where there are many willow trees. As a resident of Lawrence Weston I have visited these wetlands many times since I was little and thought it would be nice to acknowledge the close connection to nature we have in this area.
"There was also a large willow tree that stood just up the street from Corbet Close, I used to walk past it every day on my way to school."
Century Park was suggested by local resident Becky Cockle, who is a Trainee Community Development Worker for the resident-driven organisation Ambition Lawrence Weston. Becky's choice recognises the 100th anniversary since the first 'homes for heroes' were built in the wider area. She said: "I support the development and look forward to these much-needed new homes being built. I'm even more excited about it now that I can tell friends and family I actually named the site!"