Looking to buy?
Whether you're a first time buyer saving up for a deposit or a homeowner looking to sell your current property, we have a range of buying options to help make moving home easier and stress-free.
Shared Ownership
We've helped many customers become homeowners with our Shared Ownership scheme – it's easier and more affordable than you think.
Find out more
Lost your current buyer?
Talk to us about our Chain Break Rescue solution, the perfect remedy in this uncertain market.
Curo Swift Move
Want to move to a stunning new Curo home but have a property to sell? With our Swift Move scheme from our partners MOVE+, it couldn't be easier! Swift Move is a quicker way to sell your house at market value, while saving money on estate agent fees, advertising and marketing costs. MOVE+ will help you every step of the way – and it won't be just money you save – they'll make it as easy and hassle-free as possible for you to move to your new home.
Here's how it works:
Step 1

Choose your new Curo home from any of our stunning new developments.

Step 2

Complete a Swift Move application form and discuss your selling expectations with one of our experienced sales negotiators.

Step 3

Your Curo sales negotiator will then discuss your application and arrange a multi agent valuation of your current property via our partners MOVE+. Together we will help you achieve what you need in order to move in to your dream home*.

Step 4

The team at MOVE+ will contact you to discuss your valuation report and agree a suitable marketing price in order to sell your property as quickly as possible*.

Step 5

Upon agreeing a suitable marketing figure for your current home, you are now in a position to reserve your new home for a period of 4 weeks*. Your Curo sales negotiator will arrange this with you accordingly.

Step 6

Our partners at MOVE+ will instruct a suitable agent to market your property*. Activity and progress on your sale will be monitored for a period of 4 weeks in line with your 'Swift Move' reservation agreement.

Step 7

MOVE+ and Curo will work with you and the nominated agent/s to help you achieve the best price for your current home. When an acceptable offer is made, MOVE+ will make sure the process runs smoothly through to exchange and completion.

Step 8

Together we will agree a date for completion so you can move into your beautiful new Curo home.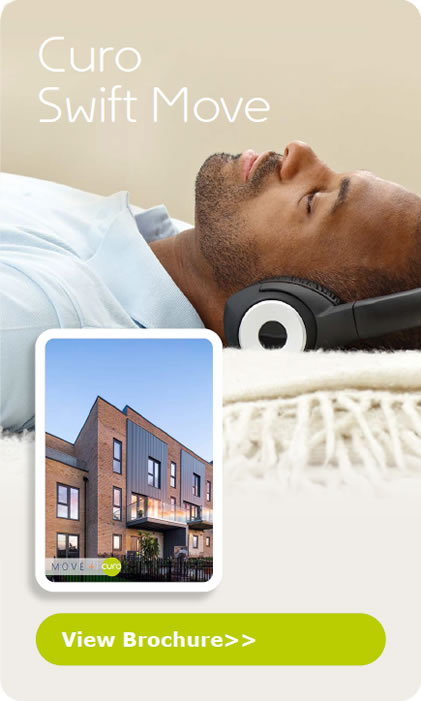 *Curo and partners MOVE+ cannot guarantee that your property will sell. Valuations will be based on a 4-6 week sales price. The suggested marketing price can be flexible and will be agreed between MOVE+ and you as the seller. You can choose to select a preferred agent but must make this clear at the start of the process. Reservations are valid for 4 weeks only and will be terminated if no sale has been agreed in this timeframe. Flexibility can be offered by prior arrangement based on current circumstances and/or current market conditions but this must be agreed with a Curo sales negotiator within the 4 week contractual period.
Curo Smooth Move
Are you keen to move to a new home but the stress of selling your current property is putting you off? Let our partner, the highly reputable Property PX Group, take the stress, hassle and delays out of your house move with our part exchange scheme; Smooth Move.
Who is it for?
If you've set your heart on a brand new Curo home but are worried about having to sell the property you currently own, our part exchange scheme can help. With Smooth Move, the Property PX Group could buy your existing home so that you can move into your new Curo home as quickly as possible.
Why choose Smooth Move part exchange?
No estate agent fees – as Property PX Group buy your home direct, you save on costs
Stay in your current property until your new home is ready - no need to think about renting or 'sofa surfing' between moves.
No chain and no delays – you don't need to worry about the sale of your property falling through
No price differential – so you can upsize, downsize or sidestep in to your new home.
To find out whether you can part exchange your way to a brand new Curo home, book an appointment with one of our Sales Advisers and see which properties are available in your chosen development.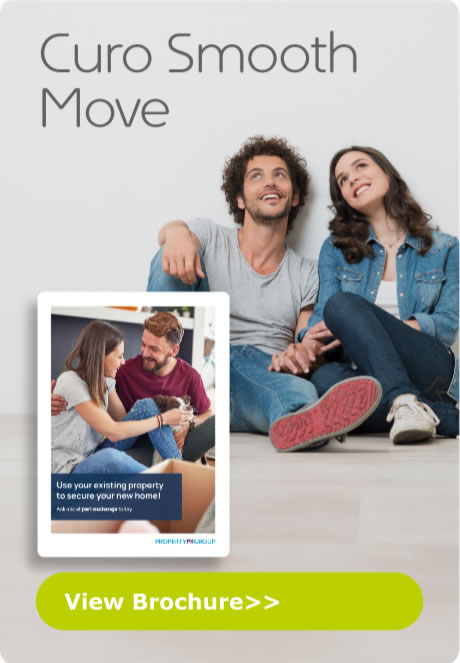 Should you wish to use the Smooth Move Scheme, please be aware that you will be entering into a contract with Property PX Group.