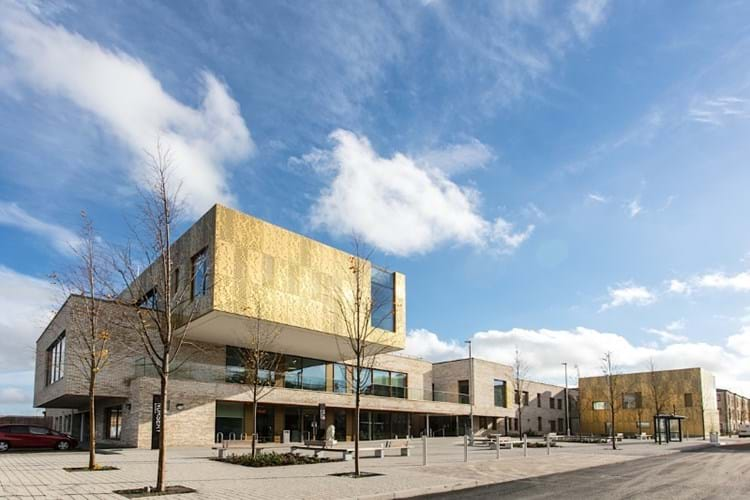 15th August 2019
The Hub at Mulberry Park wins prestigious award
The Hub, Curo's £10m community building at its Mulberry Park development in Bath, was crowned the winner of the South West Community Benefit category at the Royal Institute of Chartered Surveyors (RICS) Awards 2019.
The award recognises outstanding achievement in providing a facility which directly benefits the local community and can demonstrate its success through local community feedback.
The judges said: "The resulting facilities and designs met and exceeded the vision of Curo in bringing people together and delivering state-of-the-art facilities which include a nursery, café and flexible community and business spaces that can be adapted and evolve as the needs of the community change."
RICS judges commended the project team – BDP Architects, housing association and house-builder Curo, Rydon Construction and surveyors Ridge & Partners – "for creating an exemplary community hub that is a trailblazer for future community buildings."
Curo Chief Executive, Victor da Cunha, says: "We're thrilled and very proud to win this award for The Hub, alongside our partners. It's a fantastic recognition of the important role it already plays in bringing communities together, less than half a year since it officially opened its doors last December. Its success is firmly based on close collaboration with local residents who have helped us to create these iconic buildings – a place shaped by the community, for the community.
"So many people – not only from the local area, but from all across Bath – enjoy the family-friendly café at The Hub every day. This community building, with its versatile rooms and state-of-the-art facilities, is already a place of choice for business, meetings and events for many local partners, charities, health providers, politicians and local people and businesses offering a wide range of courses and classes.
"We're looking for even more partners to bring much-needed services and activities to The Hub for the local communities of Combe Down, Foxhill and Mulberry Park. As a Community Benefits Society, The Hub is run in partnership with local residents and once in full operation, our vision is to transfer this fantastic building to the community to be run by and for the local people."
One of the people using The Hub for her business is Noeline Beesley, who's been running kindergarten music classes at The Hub since the first week it was open. She says: "The facilities are excellent, the room we use is lovely and big with lots of light, there's an integrated music system and plenty of space for the children to sing, dance and express themselves. I love the fact that the staff are very accommodating, they can't do enough for you - and the coffee is great too! It's an amazing facility, there's lots of space here for quality activities to go on and I'm thrilled to be able to say that I'm offering my classes here in Combe Down in such a fantastic building."
Nick Fairham, Architect Director in international architectural firm BDP's Bristol office, said: "It has been a real honour to work on a building, and with a team, that truly has the local community at its heart.
"It was clear at the outset that flexibility and adaptability would be crucial – so that over time, as the community changes, and what they want out of the building alters, the Hub can be adapted to suit that changing need. And the determination to create something really special that acts as a focal point and unites the neighbourhood was really inspiring. We hope the Hub's unusual composition of cantilevered, overlapping 'boxes,' inspired by the site's Ministry of Defence heritage, will do exactly that."
Winners from all regions of the country will meet in London in October to find out who'll take home the National RICS Awards trophies.
Photo: Rebecca Faith