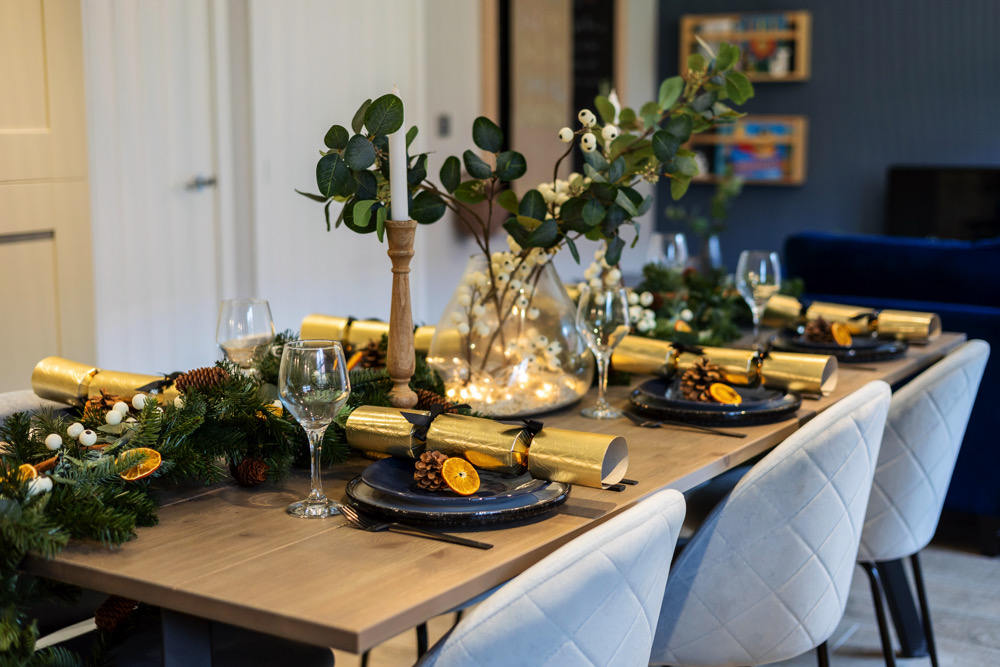 29th November 2021
Deck the halls at Eaton Park
It's officially Christmas here at Curo! With Christmas wreaths a-plenty and seasonal décor throughout our show homes, we're excited to announce a unique collaboration with Clayton & Company to bring some stunningly designed Christmas magic indoors at Eaton Park.
In order to spread the festive cheer with all our visitors, Clayton & Company have dressed the 6-person table inside our Clifton show home and a hand-made wreath for the front door. The table décor has been designed using a natural theme of pine foliage as the background, with fragrant, silvery eucalyptus leaves, pinecones, dried orange slices, cinnamon sticks, and white winter berries; the fragrance is absolutely sensational as you enter the house. They've also topped the table with tall wooden candle sticks with classic white candles and gold foil Christmas crackers for a touch of glamour. The display is sure to inspire everyone who steps inside with creative ideas on how to make your home exceptional this Christmas.
We asked Clayton & Company for some tips on how to make your Christmas decoration stand out. This was their top tip:
"Make your wreath count. A beautiful front door wreath gives a hint of the magic that lies within. Wreaths are easy to create, and you can tie in the whole of your Christmas theme right from the front door."
Visiting Eaton Park in the run up to Christmas is a unique chance to one-up yourself with Christmas décor like never before. Visitors will get a chance to view one of the few remaining Clifton houses and explore our stunning Eaton Park development.
Call us on 0345 140 5050 or send us an email sales@curo-group.co.uk to arrange to come down to view our display and get some inspiration for how to decorate for Christmas.